L.A.W.N. Call For Participation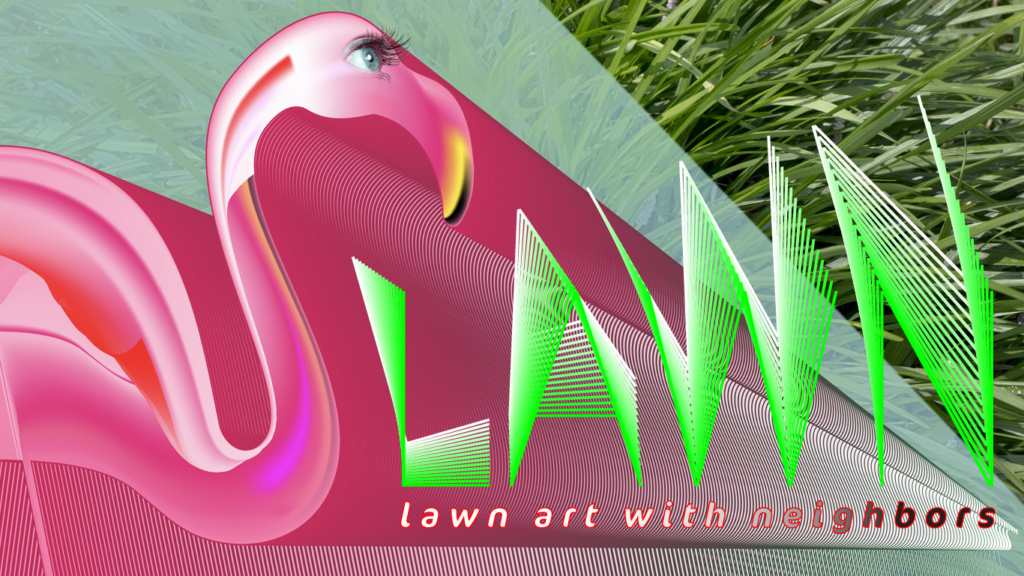 L.A.W.N. invites the community of Springfield to create a work of art in your front lawn for a city-wide public art exhibition.
L.A.W.N. is a city-wide public art exhibition made for front lawns by community members located in and around Springfield, Missouri. Created as a grassroots project focused on connecting our vibrant community, L.A.W.N. seeks to empower public art made by the people as a contribution to Springfield's sense of place and the built environment we all share.
All members of the community are encouraged to participate by creating a work of art using materials available at home: sculpture, chalk art, installation, etc. in front of their residence. This project is about expressing creativity, no matter the skill level. See L.A.W.N. Project Guide for details and ideas.
To register for L.A.W.N., fill out the Participation Form found on the L.A.W.N. website.
L.A.W.N. is founded and organized by Deidre Argyle, Jodi McCoy, and Shauna Smith through Sculpture Walk Springfield, Springfield Art Museum, Missouri State University: Art + Design Department, and Greene County MU Extension Council.
Important Dates
April 1: Priority Registration
April 13 – April 30: Build artwork
April 16: Participation Sign Up Form due. Your form must be turned in by April 16 to be included in the map. (Late registrations are accepted and we will do our best to get your site on the map.)
April 16-22: Project Detail Form due to L.A.W.N. team.
April 24: Photos of the finished project due to L.A.W.N. Team. Fill out the Finished Project Photos Form.
April 24: International Sculpture Day. Post photos of you working on your artwork on social media using #ISDay2021 and #LAWNSGF.
April 23-May 8: First Friday Art Walk / L.A.W.N. Public Viewing Weekend. Have your work completed and on view no later than 10am on April 23. Pick up a L.A.W.N. sign from the Springfield Art Museum and install it near your artwork.
May 7: First Friday Art Walk
May 8: Official end of L.A.W.N. events.
May 9: Feel free to take down your artwork at your convenience. If your work adheres to your neighborhood policy, leave it up indefinitely!
May 10-16: Return L.A.W.N. sign to the Springfield Art Museum. 
The Rules: Do's and Dont's
Practice social distancing. 

Follow all city/state mandates in place at the time of creation and display of your work.
Avoid creating enclosed spaces or work that promotes physical contact.

Create works that are viewable from the street or sidewalk. We are not in control of the public, but what you make can encourage safe viewing options.
Use materials that are NOT hazardous- i.e. sharp items, oil/gas, etc.
Use materials that have a chance to survive a week during a variety of weather conditions. (i.e. chalk may wash away if not covered)
If your artwork is no longer on view during the viewing window of time, contact lawnsgf@gmail.com asap so we can update our map.
Do not disrupt sidewalks – Allow for walking, wheelchairs, and strollers to continue to use the sidewalks.
No hate speech or derogatory images.
Do not use other people's property without permission.
Artwork created remains the property of the creator, and they are solely responsible for the artwork. Sculpture Walk Springfield, Springfield Art Museum, and Missouri State University hold no liability for damage or injury that occurs while creating or viewing art.
Fill our Participation Sign Up Form by April 16th to be included on the L.A.W.N. map.
Complete works and have them on display by 10am on April 24th.
Attempt to keep work up and on view through May 8th.
Share L.A.W.N. with your friends and neighbors! How many people can you get to participate?
Return L.A.W.N. signs to designated signage drop off point May 9th-14th.
Resources for Artists