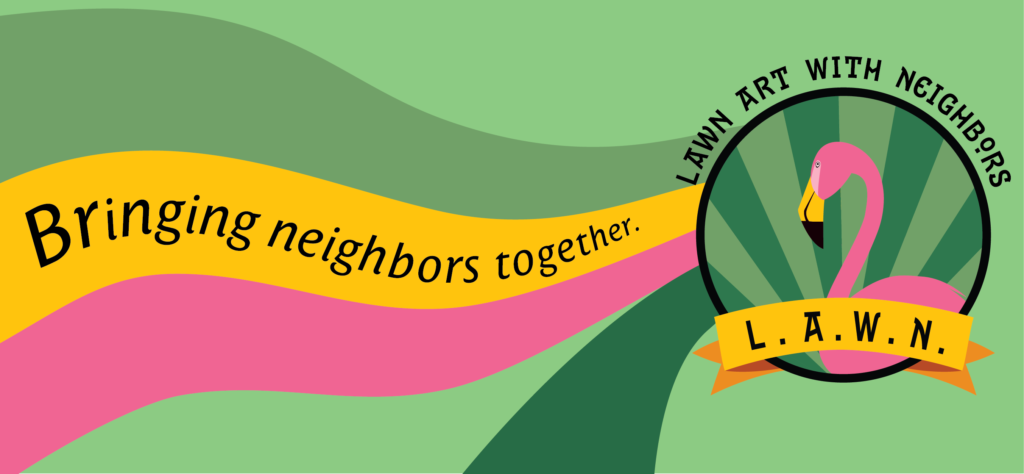 L.A.W.N. Public Viewing: April 22 – May 7, 2023
L.A.W.N. is a city-wide public art exhibition made for front lawns by community members located in the greater Springfield, Missouri area. Created as a grassroots project focused on connecting our vibrant community, L.A.W.N. seeks to empower public art made by the people as a contribution to Springfield and the greater Greene County area's sense of place and the built environment we all share. 
Originally established in April 2020 as a response to Covid-19, L.A.W.N. was created as an effort to encourage artmaking and viewing as a form of bolstering mental health and community building during stay-at-home orders. 
Now L.A.W.N. endures as a public art opportunity open to all community members and art forms. Past L.A.W.N. exhibitions have included sculptures, paintings, installations, video projections, podcasts, social practice projects, and more. 
L.A.W.N. is founded and organized by Sculpture Walk Springfield, Springfield Art Museum, Missouri State University: Art + Design Department, and Greene County MU Extension Council. 
How to Experience L.A.W.N
For questions about this event please contact [email protected]
Interested in Participating in L.A.W.N.? Visit our Call for Art Page.
Need some inspiration? Check out the 2020 L.A.W.N. Exhibition, 2021 L.A.W.N. Exhibition, and the 2022 L.A.W.N. Exhibition!
Keep up to date with L.A.W.N. activities! Click the button below to sign up for our email list.